FBI Held Secret Interview with Australian Ambassador in 2016 as Part of Trump Investigation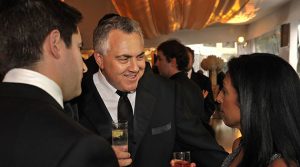 The government of Australia in 2016 allowed one of its ambassadors to be interviewed by the FBI as part of the agency's investigation into alleged ties between Russia and the Trump presidential campaign, the New York Times reported on Wednesday.
The secret meeting, which marked a break with diplomatic protocol, was held in London between FBI agents and Australia's ambassador to the United Kingdom, Alexander Downer.
The FBI initiated the sit-down after learning the ambassador had evidence that one of Trump's advisers knew in advance about Kremlin interference in the U.S. presidential election, the newspaper said.
The Times reported that the FBI code-named the probe "Crossfire Hurricane," after a Rolling Stones lyric.
The name, known by a small group of FBI officials, was a reference to the Rolling Stones lyric "I was born in a crossfire hurricane" from the song "Jumpin' Jack Flash."
U.S. Justice Department Special Counsel Robert Mueller is now probing alleged Russian interference with the 2016 U.S. presidential election.
Courtesy : CNBC
Photo : Axios
[social_warfare buttons="Facebook,Pinterest,LinkedIn,Twitter,Total"]