Tourism a Bright Spot for Indonesia, Touts WTTC Chief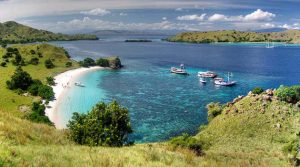 Travel and tourism's total contribution to Indonesia's GDP is expected grow 6.2 per cent annually, higher than the global average of four per cent, according to new data from the World Travel & Tourism Council (WTTC).
Travel and tourism generates 6.2 per cent of Indonesia's GDP, or 770 trillion rupiah (US$59.2 billion), with Jakarta alone taking a 41 per cent share of the country's travel and tourism contribution. The same research also shows that the sector is set to generate 2.4 million new jobs in Indonesia.
Speaking at the Panorama Mega Conference in Jakarta last week, Gloria Guevara, president and CEO of WTTC, further shared: "Travel and tourism accounted for over 55 per cent of Indonesia's service sector exports."
Guevara attributed the destination's achievements to the policies put forth by president Joko Widodo's administration to facilitate travel to the country.
The president has set an ambitious target of 20 million visitor arrivals in 2019, nearly double that of 2016. He also called for US$20 billion in investment in the sector to support this rapid growth. In 2016, Indonesia granted visa free access to nationals of 169 countries.
"Indonesia is a prime example of a government which is taking the right approach to tourism development with strategic investment to support sustainable growth and policies that facilitate travel," Guevara commented.
On the future of the country's tourism, Guevara remarked: "Do (longhaul) travellers to China or Japan also visit Indonesia? There should be a strategy to (make) Indonesia part of tours (in the region)."
Similarly, Indonesia needs to diversify its products and destinations to manage growth. One way Indonesia is already working towards this, she said, is by developing 10 new Bali's.
But for this to bear fruit, she said infrastructure and connectivity are key.
Moreover, to sustain growth, the destination needs to consider the millennial segment, the majority of which will enter the workforce by 2020. Digital and biometric adoption in travel and tourism are also key.
Courtesy : ttgasia.com